Do you suffer from eye fatigue every time you play multiple rounds of golfing? Does continuous exposure to direct sunlight make calculating distances a lot difficult for you? If you answered yes, then you badly need a pair of golf sunglasses.
In this article, we are going to discuss about the reasons why golf  sunglasses matter, how to choose the right pair for you, a list of best sunglasses for golf today. You should also know that golf sunglasses are different from fashion eyewear in terms of lens tint, frames, and style. Most golf sunnies are designed and engineered specifically for the purpose of playing golf, while other sunglasses are also available for cycling, skiing, mountaineering, and so on. Needless to say, special sunglasses do offer multiple benefits that you might not find from using a typical eyewear and thus, the more likely you will have to purchase the right golf sunglasses for you.
Golf Sunglasses Reviews: The Top 5
From polarized to photochromic golf sunglasses, here are the 5 best brands of 2016!
Oakley Men's Flak Jacket XLJ
An industry-leading performance sunglasses maker, Oakley never fails to deliver top-notch eyewear. Through the Oakley Men's Flak Jacket XLJ, it dominates the market once again with core golfers as the primary target. Several golf sunglasses reviews can also attest to the rising popularity of this brand that it has become ubiquitous online.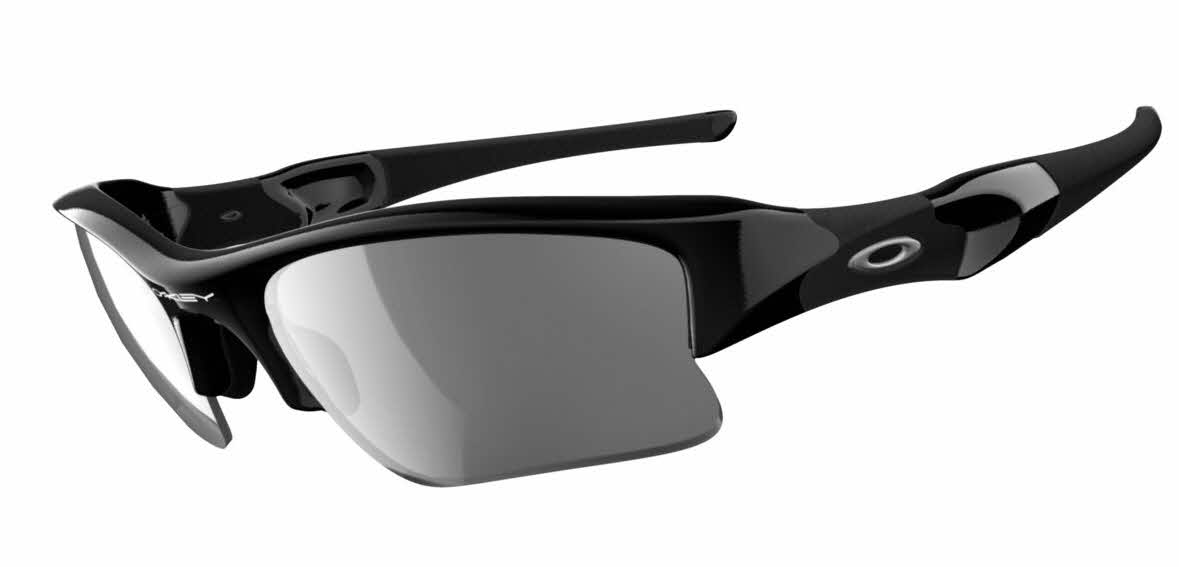 Its features are as follows:
Interchangeable lens
Polarized
Iridium lenses
Comfort fit and durable
Metal accents
Lens coating
UV Protection
Pros
The Oakley Men's Flak Jacket XLJ is polarized to improve your vision quality under changeable weather conditions. Its Iridium lenses are designed for anti-glare, while the Plutonite polycarbonate lens are for blocking out the bright light to improve your color contrast and UV protection. Meanwhile, the interchangeable lens are ideal for adjusting your vision to courses with varying densities and weather conditions. Golfers who play at courses heavy with slopes and trees might find these features really helpful in making things less stressful for them.
Another notable pro of this product is the fact that it fits securely and steadily on the head. The frame comes with nose pads to provide comfort and best fit. The unobtainium material on the pads and rest of the frame makes the sunglasses resistant to sweat so it can stay stably on the nose-bridge and temple. You don't also have to worry about its ability to give you an enhanced vision quality when looking down. Thanks to its semi-rimless design there's no bulky frame that can obstruct your view of the ground at your feet.
Cons
Price is no joke at under $200, but let's consider the fact that it is specifically made for professional golfers, so the price does make sense after all. This could still alienate the newbies on the market, nonetheless. But if you're a casual golfer who can afford great style and technology at a premium price anyway, then better grab this pair of Oakley Men's Flak Jacket XLJ sunglasses as it is the best out there.
Verdict
Oakley Men's Flak Jacket XLJ is one of the few reasonably priced polarized performance sunglasses. It is the right pair for you if you want to perfectly enhance your vision quality when reading the green and identifying the golf ball against high contrast backgrounds.
JiMarti JM01 Sunglasses
Unbreakable and cheap, JiMarti JMO1 Sunglasses are ideal for on-budget golfers. The frames are flexible paired with lightweight polycarbonate and non-polarized lenses. This pair of specs is so light to the head that you may even forget you are using them. Therefore, you can wear it over long periods of time and won't yield heavy tension on your head.
Additionally, JiMarti JMO1 Sunglasses are loaded with these features:
Mirror flash coating
Polycarbonate lens
Stylish TR90-Frame
Shatterproof
Lifetime breakage warranty
Pros
JiMarti JMO1 Sunglasses is designed to help golfers see the objects clearly under direct sunlight and prevent the development of eye fatigue throughout the game. Its UV 400 lens coating must be doing a great job in protecting the wearer's eyes from the blinding light and glare because we are still able to see the target object against the green background clearly.
It is also super lightweight at .6 ounce! So, any golfer wearing this sports eyewear won't have a hard time turning his head quickly, and of course, it won't hurt your temples after hours of wearing them. Based on many golf sunglasses reviews, the nose pad is worth mentioning, too, because it is quite a steady fit to the bridge. And the lightness of the material doesn't leave any pad marks on your nose. JiMarti JMO1 Sunglasses is the kind of eyewear that you can use for any kind of rigorous outdoor sports, including driving.
Cons
If you don't like a detachable nose pad on your golf sunglasses, then the JiMarti JMO1 Sunglasses is not for you. But then again it's a minor issue that you can grow accustomed to, something you might be willing to trade off for the cheap price. The frame is plastic in order to give room for flexibility yet the sunglasses are unbreakable and protected under a lifetime breakage warranty. It is a nice touch by the manufacturer, considering most performance sunglasses don't come with such a warranty.
Verdict
Overall, the JiMarti JMO1 Sunglasses might be for you if you are looking to buy affordable yet good-quality eyewear made of predominantly polycarbonate material. At under $50, this pair of JiMarti JMO1 Sunglasses is already a great deal! Definitely a must-have for golfers who think spending hundreds of dollars on a pair of specs is way over-the-top.
Tifosi Jet Wrap Sunglasses
Sitting on the same market range as JiMarti JM01, Tifosi Jet Wrap sunglasses can be a good alternative to brands on the higher end. It is built with TR-90 nylon frame and provides comfort and fit to the wearer. The lenses are non-polarized but can filter out all of the UV rays greatly.
Some features of this brand are as follows:
Polycarbonate lens
Stylish
100% UV protection
Shatterproof
Lightweight
Pros
Tifosi Jet Wrap eyewear looks more stylish than most of its rivals on the market. Wearing this can make you look like a pro and the design is comparable to Oakley. What's more is that you don't have to pay a premium price for it, which is totally a great deal for those who want style and good-quality at an affordable rate.
The wrap-around feature doesn't make the glasses fog up when used over longer hours. It is also a great fit and doesn't fall off easily even when you're against the wind. It stays in its place, which makes it all the more ideal for golfing where there's constant twisting of the head and the body. Shatterproof and lightweight, Tifosi Jet Wrap sunglasses are a must have for casual golfers.
Cons
The non-polarized lens can be a deal breaker for golfers who want better depth of field and more enhanced vision quality. But doing so may warrant Tifosi to mark up the price, which is totally against their principle of creating quality sports sunglasses for the "masses". Another deal breaker is that the lens fitting is a bit small for people who have a large head size. On the contrary, Tifosi Jet Wrap sunglasses could be perfect for players who have a petite facial structure.
Verdict
Tifosi Jet Wrap Sunglasses is the closest thing you can get close to Oakley sunglasses. The design looks professionally done and does a great job in blocking out UV rays and bright light under sunny conditions. Above all, it is relatively cheaper among other low-end brands.
JiMarti JMP01 POLARIZED
JiMarti JMP01 POLARIZED Sunglasses for Golf look sleek and stylish with its wrap around frame, light copper tint, and Megol rubber nose pads. Its semi-rimless frame style is highly recommended to players who perspire a lot in the game. The design looks unisex, too, so women will appreciate its patterned red and black frame.
Some of its notable features are:
Clean with Soft Moist Cloth

Unbreakable, Bendable, Super light weight TR90 memory Frame

Polycarbonate Shatterproof Polarized Reflector Flash lens. GREAT Gift idea!

Active fit for active people. Soft Rubber Nose & ear Pieces for all day comfort
Pros
JiMarti JMP01 POLARIZED Sunglasses are affordable at less than $50. Looking at the features and its price, it is not hard to think twice about your original options, if they're really worth the money. This eyewear doesn't fog up on the lens because of its little slit at the top which allows ventilation. As a result, players who sweat a lot may experience great fit and comfort while using Sundog Draw Golf Sunglasses for longer periods of time. You can also adjust the nose pads according to what suits you best under different circumstances.
As for its lens technology, Sundog uses its trademarked Mela-Lens technology to give you 100% UV ray protection; to block out blue light; and to reduce high-energy light sources. In fact, the technology is named after melanin because the sunglasses contain synthetic melanin to provide extra defense mechanism from your sensitivities to blue light, which is an amazing addition to its features.
Cons
Price is just right at mid-range but considering there are other cheaper brands with the same level of quality as JiMarti JMP01's, you may have to think it through. The synthetic melanin technology might give JiMarti a bit of an edge, though! As for the design, JiMarti frames may not appeal to everyone, particularly the male players. It comes off as a unisex type of design, but judging it by its cover doesn't mean much to what it can really do.
Verdict
If you want to filter out blue light from your vision at a cheap price, Sundog Draw Golf Sunglasses may be one of your few options. Its Mela-Lens technology does sound amazing as it can provide such a defense mechanism against certain light spectra for your sensitive eyes. Men and women may find this eyewear a great fit to the face and nose, even players who tend to perspire a lot.
Peak Vision GS4
A bit on the upscale side of the market, Peak Vision GS4 is yet another contender to Oakley. It sits well on the face, good quality photochromic lens, made with an advanced light management technology, and may look good on both genders.
Other features of the product include :
Grilamid TR90 frame
Megol rubber nose pads
Amber lens
Comfort fit
Zero Distortion Lens technology
Pros
Peak Vision GS4 is relatively cheaper than Oakley but it is already loaded with useful features that can improve your game play. Its solid amber/grey tint does a great job in helping the golfer read the green clearly and in seeing the distinct features of the objects under direct sunlight. Needless to say, the lens quality is at par with the other products on the higher end.
It is also worth mentioning that its Zero Distortion Lens technology can keep you focused and unstoppable as it effectively blocks out the UV rays. It can also absorb 4% of ambient light in lawns, grasslands, and the like. The fitting on the face is comfortable, too. The lenses are wide enough to suit medium to wide face frame. Therefore, GS4 is quite a better option than the two previously discussed brands.
Cons
At a little under $100, the price may be too steep for those who are looking for a temporary golf sunglasses. One thing to take into consideration is that Peak Vision GS4 is specifically designed for golf unlike other brands that you can also use for driving, running, cycling, and so on. From the lens, built, to fit, this eyewear does meet all the standard requirements of a casual or seasoned golfer.
Verdict
For a middle-range golf specs, Peak Vision GS4 seems to be useful in a lot of ways. For one, it is specially designed for golfing, design looks suitable for both genders, and is made of an advanced lens technology called Zero Distortion. Thus, expect to see only the most accurate and distinct shapes of the target objects possible.
Why do Golf Sunglasses Matter?
Some golfers think that wearing a pair of sunglasses is a distraction, especially when reading the greens. However, there is more to these sunglasses than you will probably realize and it goes beyond giving you protection from the harmful UV rays.
Wearing the best golf sunglasses does matter because it could reduce the risk of developing macular degeneration and pterygium (growth around the cornea). It could also help you play comfortably all throughout the game. It also happens that constant squinting may result in build-up of tension around the eyes which may lead to headache. Constant muscle contraction could also affect the other parts of your body such as your hands. This is also why you might find yourself holding onto the club a bit tighter in the latter part of the game as compared to the previous rounds.
Golf sunglasses are also great allergen or dust filters. It can protect your eyes from getting itchy and watery due to allergens. You also don't have to worry about the possibility of getting dirt and sand into your eyes every time you swing it is literally a shield from UV rays and small particles. It enables you to play with less distractions while giving your eyes the utmost protection it needs.
How Golf Sunglasses Differ from Regular Eyewear
The best golf sunglasses are infused with cutting-edge technology that gives higher level of protection from external elements. This technology is often engineered to improve the wearer's vision contrast and vision quality without sacrificing comfort and ease of use. For this reason, golf sunglasses are way better than regular specs.
Design
Design-wise, golf sunglasses can absorb the blue end of the spectrum. Blue light absorption means better color contrast quality and the green colors are more clear and defined. With this, you should be able to read the greens better and see the golf ball against the green background. Your eyes can easily follow the ball as it flies across the green and against the blue or grey sky. Speaking of which, blue and grey spectra are usually neutralized in golf sunglasses in order to increase an object's visibility and improve the chromatic contrast.
Frames
While most frames can be custom-made, frames on golf sunglasses tend to be more lightweight, more fitting to the nose-bridge and temple, and have better support at the bottom rim. Even with golf sunglasses that are semi-rimless have the ability to enhance your depth of field, particularly when you look down to hit the ball. Meanwhile, glasses with thick frames can distract your vision and may not be able to resist slippage.
The materials that are often used for constructing best golf sunglasses frames are titanium, plastics, and nickel as these elements have the ability to slow down heat absorption and are flexible. Therefore, the frames are guaranteed stable during the game even over extended periods of time.
Lenses
The best sunglasses for golf have a special lens cut to minimize distortion such as prism imbalance and power errors. The different lighting conditions that golfers may get into require them to wear sunglasses with lenses consisting of photochromic elements. As for players who are always exposed to fields with varying densities, they may want to consider getting a pair of sunglasses with interchangeable lenses. Lastly, golfers who are more often exposed to abrupt topographical changes may want to use gradient density lenses. These design-specific options allow golfers to have flexibility in the type of specs they want to use long-term compared to a one-size-fits-all eyewear.
How to Choose the Right Golf Sunglasses
As golf sunglasses are specially engineered by experts, you need to know which characteristics you should take into consideration when shopping around. Some factors include vision quality, fit of the frames, durability, and eye protection.
Comfort and Durability
The best golf sunglasses should fit steadily on your nose and temple. This feature can be especially useful when you're looking down to tee-off. Your sunglasses should also be flexible and durable enough to withstand heat, varying weather conditions, and long hours of golfing. For example, sunglasses with adjustable arms would be a great choice for golfers who play multiple rounds on an 18-hole green.
To achieve comfort, the eyewear should be made of lightweight materials such as titanium. Plastic sunglasses are most commonly made too because they're cheaper than titanium and nickel metals as well as lightweight and durable.
Anti-Glare and UV Ray Protection
The best sunglasses for golf can provide absolute protection from UV rays. You can either buy a pair of polarized or non-polarized glasses, depending on what suits you best. For example, polarized eyewear are recommended to golfers who want to reduce glare from the bright sunlight while those who do not want obstruction from the effects of polarized lenses on the vision may opt to buy a non-polarized eyewear.
Lens options
Know that there are multiple types of lenses for golf sunglasses, which is also known as photochromic sunglasses. Each lens color has an important role to play in your game, which is described below:
Yellow– Used for reducing glare and enhance color contrast. This is ideal to use under cloudy conditions. Opt for a darker tint if you want a sharper vision of things.
Amber – Designed for filtering the blue spectrum of light, in order to improve the contrast of green colors. This lens color is particularly useful in adjusting the wearer's vision under varying weather conditions.
Copper – Has the ability to enhance color contrast but may cause some distortion in color. However, copper lenses are proven to be effective in making the fairway more distinct to the eyes as it enhances the wearer's depth of field perception.
Gray – Filters out the bright light, it can keep the color of the environment as is to your eyes despite the grey color lens. This is why it is perfect for playing under sunny conditions. Grey lens is a perfect alternative to copper lenses.
Conclusion
Golfers and other outdoor sportsmen are always at risk of developing eye diseases and skin cancer. This risk increases when there are no custom made sports gears to protect you from the harmful UV rays and other sensitivities to the varying conditions of the environment and the weather. If you play golf often, wearing a specially engineered pair of sunglasses for golf is a must.
Depending on your budget and experience, you can choose from a wide range of golf sunglasses. Luckily, there are plenty of golf sunglasses reviews out there that can help you arrive at a good buying decision.
If you want the best eyewear for golf, take a look at Oakley Men's Flak Jacket XLJ.
From its polarized lenses, 100% UV ray protection, enhanced vision quality, to tight fit, you will everything that you're looking for in a professional sports eyewear.
You might like: Golf Laser Rangefinder Buyer's Guide
However, if you're on a limited budget but hoping to get good quality lenses and durable frames, you might want to pick among JiMarti JM01 Sunglasses, Tifosi Jet Wrap sunglasses, Sundog Draw Golf Sunglasses, and Tifosi. Additionally, other brands like Nike, Ray-Ban, Callaway, and Kaenon can pull the crowd in, but you might need a deeper pocket to buy those.
Overall, choosing the best golf sunglasses depends on how you're going to use it. Sure, you're going to need it to protect your eyes from those harmful elements, but also ask yourself these: Do you often play for golf tournaments? Do you just casually play with your friends for fun? How can a pair of sunglasses help you win a game?  If you're on the professional end of the field, rooting for the high-end brands is definitely the way to go.